In Maui there is so much to do and so many different companies selling certain activities that it can be a bit intimidating. One thing I do prior to traveling is research, research, research!! I want to find the best prices, the activity with the best reviews and coupons or promo codes for online booking! We also don't mind the timeshare meetings! Hey if we can score an activity that normally costs $90 a person and for 90 minutes of our time we are given this!! Oh yeah we are going to suffer through it!!
So here is a horseback riding activity we did!! It was fabulous! The horses were well trained, the views were just breathtaking and Frenchie our guide was pretty cool! We were also lucky to be in a group with only another couple.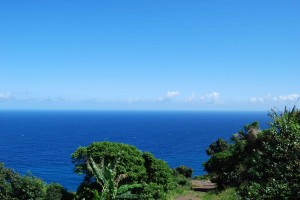 Did I mention this was our first trip to Maui? So of course we had to go out to Molokini and snorkel!  What a amazing time. First time snorkeling for me. Was a bit overwhelming at first. Lucky for me my husband was right next to me! I soon relaxed and enjoyed the view. And what a view it was. Beautiful multicolored schools of fish swimming right next to us. Gorgeous coral to admire. The crew was great. They provided the suits and lunch! Nothing real special but it was good and filling.  We had enough time in this crater area and our next stop was Turtle Town where we were once again in the water and this time we were swimming next to these amazing turtles. What an adventure. Do you need to go on one of these snorkeling adventures? Not really, you can rent snorkeling equipment and go to the beach! But why not hop on a cruise and enjoy all the dolphins you may see and just the beautiful Pacific as you sit back and relax! And if is Whale Watching season…double bonus! I have no pictures to share from that adventure. A little to wet to get the Nikon out!
I also do my homework on Restaurants… Who doesn't love to eat? I use YELP for this. I read the reviews and check out the menus.  Our first time in Maui we stayed at a bed and breakfast and so this place was nearby and when you see all the locals eating their, you know its good! So good we went there several times!
Right across and a bit down is a great place to have pizza and a cocktail!
One place that was recommended and we gave it a try was Mama's Fish House. Very nice restaurant situated on the coast in Paia. Prices are quite high and the food quality very low.  I would give this place a 10 for its location but its food and service would be half of that.
There is so much more to share about Maui but I will be saving that for another post!