I finally made the decision to have my DNA checked to follow where my Ancestors may have come from!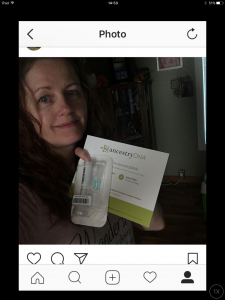 I have always been a bit curious…
But lately more so as I have been doing a lot on Ancestry and have quite a large tree so far… dating back to the 1850's. It's so interesting finding documents from those who have walked before us. I located census papers, marriage certificates, ship records, plus many more.
I was a bit surprised about my results…
I received my results several weeks ago! I was surprised that it didn't take as long as stated!
I did expect a higher percentage to come from Russia and Ukraine area beings I found proof that some great great greats were born there.  This DNA test goes back way farther than I have searched.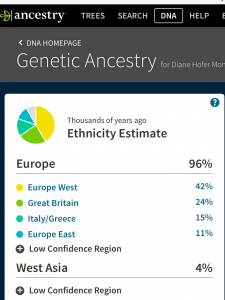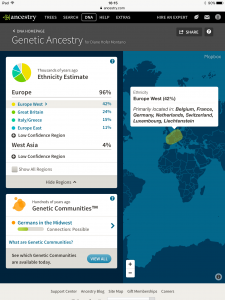 I was expecting to see these results!  There are so many Hofer's in Switzerland that I often get… 'You are a Hofer? And from America?' No wonder I love this area so much!!  Our German in the family is such a mix of all these places! I am extremely blessed that I have had the opportunity to live in this area where my ancestors once were.
Now this next one was a bit shocking!
I really never thought this was a possibility!! My dad does love watching British soap operas!! Not sure why cause they really have a dry humor and my dad is pretty funny! Does any of that make much sense… maybe not to everyone…
If you have ever read about Jacob Hutter… Then you know he was in Italy and actually the Italians tarred and feathered him to keep the religion he was preaching out.  Jacob Hutter may not be related to me but if my ancestors were following him as they were trying to find a home stead… I believe!!  I do love pasta and Gelato!!
I never really though about Greece… But I do like feta cheese!! :}
Like previously mentioned…I think. I expected the Eastern European percentage to be higher.
I'll add the last ones, they are quite low but still part of the percentages.
I just thought this would be interesting to share!  I have always loved History and now specifically mine!
If anyone is interested in viewing the Hofer/Tschetter, Wollman/Gross/Kleinsasser tree… Let me know and I can send you an invite. I tried to add a link but Ancestry doesn't work that way.  I currently have  71 people, 0 photos, 0 stories and 52 historical records.
Also by submitting my DNA I now have 121 pages of possible relatives listed! With the potential of being related extremely high!