Our Family Tree   Hofer /Tschetter
I have no idea how to even begin this and so I thought by starting out with a bit of information on Great Grandparents. Now I don't have much and I welcome anyone who reads this to share any information they have.
My Great Grandparents
Now I know my Great Grandparents were Jacob Hofer (1895-1950) and Sarah Stahl (1895-1983) I was lucky enough to have met my Great Grandma Stahl and have some memories of her.  They married in January 22,1916 and had 7 children.  One of which was my Grandpa David Hofer.  I actually found their marriage certificate. I also found information that Jacob's mother was born in Russia, according to the 1935 South Dakota Census.  I am not 100% sure but the documents match their information I have on them.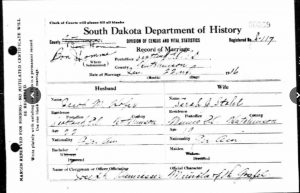 My Grandparents
David Hofer (1921-2003) and Justina (Asnath) Tschetter (1920-2012)were married November 19, 1941. They were married in South Dakota but originally there nationality was Canadian as stated on the marriage certificate I located.  Together they raised 14 children. 10 girls and 4 boys!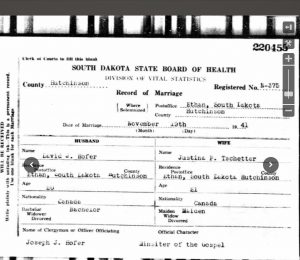 Our Family Tree
Amos ~Dorothy
 Cynthia-  Justin,Carolyn,Tamara, Matthew,Marissa,Doreen  
 Marvin-
 Dorothea-
 Justine- Amanda, Shane, Marlys, Cheryl
 Chris- Amber, Christopher, Sheldon, Caelan,Meagan,Zane
 Delores-Jeriah, Joanna, Jewel         19
The Next Generation
Christopher- Christian
David ~ Mathilda
 Debbie- Christoper, Jacob
 Diane- Justin, Kayla                          4
The Next Generation
Christopher- Carter
Justin- Giovanny, Andres, Eloise
Kayla- Gabriel
Jacob- Bellamy
Jake ~ Marian
 Jake- Elizabeth, Shannon, Mariah, Sheliyah
 Leona- Michael,Esther, Rachel,
 Sonya– Elise
 Sharon-
 Amanda-Maximillan
 Elaine- Makayla
 Jeff- Ryan,Madison,Emily                        13
RIP Uncle Jake

The Next Generation
Elizabeth, Leo,Lennon

Jonathan~Clara
 Jolene-
 Martin- Philip,Arianna,Nicholas,baby
 Jeff- Rosaline,Eden,Tamara
 Curtis- Kendra,Kingston,Kaelyn,Khloe,Kassidy         12
RIP Uncle Jonty

Tim~Susan
 Tammy- Our Little Angel… January 24, 1979- September 8, 1982
 Justin-
 Brenda- Liesl,Miles,Sonya,Wila
 Lynda- Molly,Zoe,Levi,Scarlett
 Tim- Karsten,Felicity,Davin                             11
Ernest~Kathrina
 Jonathan-Mason
 Jeremy- Jadon,Kyla,Theo
 David- Logan
 Joshua-                                              5
Dave~ Lydia
 Amber- RIP February 18,1981~ March 31,2020
Garrett-
Elmer~Sarah
Stephen-Caleb,Stephanie,Mariah,Keith,Thelma
Sarah-Jacobi,Johanna,Timaeus,Sarena,Timaeus,Jonah,Rachel
Pauline-Judah,Tanya,Joshua,Micah,Candace
Joanne-Aimee,Noah,Phoebe
Brenda-Isaiah,Jacob,Maria,Manoah,Breanna,Sophia, Ayden
Robert-Jonita,Marleah,Jeffery,Micah,Tirzah,Kari,Megan     34
The Next Generation
Aimee  Logan, Gavin, Zoey, Carson
Samuel~ Alma
 Theodore- Kayleah,Katrina,Joshua,Joseph,Mia,Melanie
 Miriam-Daniel,Matthew,Summer
 Arthur- R.I.P. March 12,1975- April 1,2008 Christy, Sean, Emily 
 Sandra- Alexander, Samantha, Anthony,Jessi,Tristan,Emily
 Susan-Jasmin,Julianne,Isabella
 Samuel- Samson,Johann,David,Taman,Emma,Grace
 Joanna- Dominic,Damian,Arthur,Dakota             31

Paul~ Adina
 Alma- Lydon,Heidi,Christopher
 Daryl- Boaz,Jubilee,Zion,Hosanna
 Josie-
 Marion- Tyler,Brandon,Brooklyn,Kairo
 Stephanie- Benjamin,Micah,Timothy,Aaron
 Pauline- Elaine,Isaiah,Mariah,Nicholas,Jaxon
 David- Rachel,Heidi,Joseph
 Sarah- Liam                                         23
R.I.P Paul Sept 7,1951-Aug 31,2015
The Next Generation
Heidi,  Kanon,Jared
Thomas~Johanna
 Thomas- Jennifer,Rhoda
 Ronald- Josiah, Samson,Corey
 Rhonda- Phoebe, Bethany, Hannah,Travis,Tyler
 Leah- Daniel,Maria,Jesse
 Karina- Grace, Jaclyn, Jacobi, Natalia,Johanna                        18
Christian~Hilda
 Robert- Hannah, Heidi, Heinji, Tyler, Krystal,Demetrius,Nevaeh 
 Glenda- Mattheus,Christina, Jacob, Ezra, Hadassa ,Gabriel, Emily,Philip
 Lesa- Timothy, David, Malachi, Elizabeth ,Lori,Jeremiah,Rachel 
 Carol- Seth, Carrie, Lydia, Christopher,Kaylee,Jaden
 Christopher- Ethan, Isabelle,Aniya,Melanie 
 Samuel- William                                      33

Levi~Dianne
 Sheila- Devan,Blake,Cody
 Scott- Brayden
Levi ~ Sharon 
 Tyler-Josie 
 Jennifer-
 Brenda-                                        5
 R.I.P Levi… May 1,1959-March 2,2010
Henry~Elizabeth
 Joel-Lincoln,Gianna 
 Matt-
2

69 Grandchildren (Including deceased)
210 Great Grandchildren as  June 2021
15 Great Great Grandchildren as of December 2020

 Completed by Diane Hofer-Montano