Our Favorite Destination
Soriano Nel Cimino, Italy
As my husband and I  were minutes away from our destination. A quaint village Soriano Nel Cimino,Italy. A place we have been twice before in a span of 6 years and although it wasn't often… It felt as though we were coming home!
We have no residence here,in Sorinao Nel Cimino and we stay in a time share 'resort' it's not your usual resort with a pool and all the amenities next to the big beautiful sea. But up on a hill a very steep hill sits a historical building, once a Palace said to house a son of a Pope!  But back to my point!! It's not the resort or the location that gave us this warm feeling! It's memories of the prior years of our days spent at the Piazza mingling with the locals who are the friendliest people we have ever met on our journeys. They greet you in the morning the afternoon and evening! They chatter…they smile and look in to your eyes!
Here we are tourists invading their amazing quaint and full of so much life village and they love it! They live there and just don't go through the actions… They live life to the fullest!!!
You hear so many different conversations going on… Laughter and many hand movements… They are Italian! They meet and greet each other on benches next to the road and at the Cafe Bar. The people of this village don't sit in their homes all day! But spend most of it outside! I love how you can hear Soriano Nel Cimino slowly wake up in the morning and then vibrantly till after lunch and then it's as though All of Soriano Nel Cimino is in a Siesta mode and once again around 5ish you hear the life of this village! And you just can't wait to get out and live among the locals!!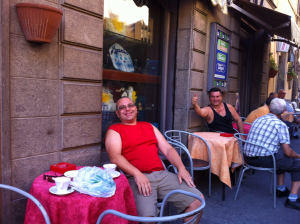 I was in a conversation with a new friend and he was shocked to hear that America has no Piazza! He asked where you visit with your neighbors and sadly I said we don't come together and therefore not everyone even knows their neighbor! Shocking for him. He couldn't believe it.  In a moment I was sadden cause what living we are missing out on! The locals take such an importance on remaining social and being outdoors. Enjoying a coffee or a beer. Most noteworthy is how the elderly gentleman group together… Together being the main thought here!! How wonderful that they are not growing old alone but together!!
The elderly walk up the very steep mountain hills with no problem where I've seen younger visitors struggle. I just love seeing this kind of community! The locals of Soriano Nel Cimino are one big family.
If you want to really see Italy!! This is the place. It is so close to Rome, Tuscany and Florence. We visit these very touristy cities in Italy but are always so happy to return to Soriano. It is relaxing. You will experience real Italian cuisine at Rottezzia. Voted #1 by Trip Advisor.  Read about them here.
This is a family run restaurant in a cave! Mama  cooks, and it is amazing!! Egisto, the father, meets and greets the guests and you'll find him joining guests for meals. Speaks great english and has become our friend. Emanuel, the son, runs the bar and Giada, is your hostess along with some other family members. It is our favorite place in Italy to eat!! Aside from Mama's house!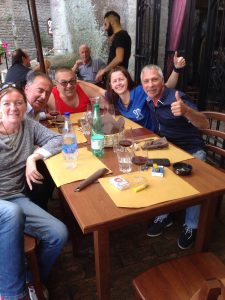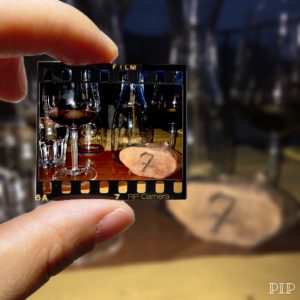 Our Favorite Table out on the balcony.